Support the Dunker Punks Podcast
---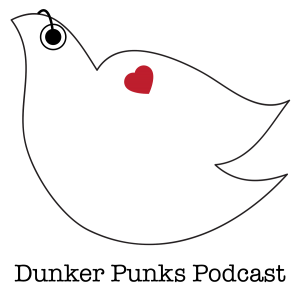 The Dunker Punks Podcast (DPP) uses new technology in the old fashion way of coming together to broadcast the unique perspective of young people raised on following Jesus.
DPP is created by a team from across the country who speak up and record witness of Dunker Punks growing Heaven on Earth. Dunker refers to the Brethren Christian tradition that, among other characteristics, practices adult baptism. The punk is another part of the tradition that refers to radical devotion, in our case, for following the way Jesus lived. DPP sees headphone and USB cords stretching like the mustard seed weed in Jesus' parable, connecting a ground-up revolution of people sharing God's love.
DPP amplifies young prophetic voices to reach across and beyond traditional church, because everyone deserves community in Christ. Through the podcast and on social media, we come together to come up with ways to encourage each other and live into love as Jesus did through everyday acts of service, advocacy and grace.
Be a Dunker Punks Podcast Partner with these support and engagement resources.
Donate.
Did you know that the teams who create DPP episodes receive a modest honorarium for their work? That's because we value being an authentic young adult voice of welcome to community in Christ. Support our young adult audio contributors with a one-time or recurring monetary donation. Sponsorship opportunities are also available to have your project or a project you love highlighted on the show.
Create + Share.
If you've listened and like the show, tell your friends and family. The endorsement of loyal listeners is the most effective way to grow our community of Dunker Punks.
Volunteer.
Join the team! Tell us your interests, gifts or what would help you to support the project. You can further DPP's ministry in many ways.
---