Support the Dunker Punks Podcast
---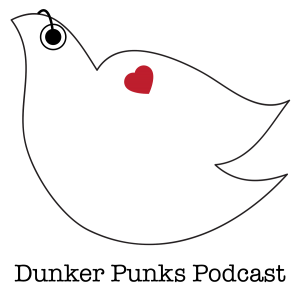 Dunker Punks are united in following Christ's radical love by the power of the Spirit to the glory of God. The podcast team speaks up to record witness of Dunker Punks growing Heaven on Earth. We relay the freedom we've found in obedient service, study, and community to encourage listeners in their walk on the Jesus way to God's revolutionary reality. We see ear bud cords stretching like the mustard seed weed, as people regularly tune-in, actively engage, and enthusiastically recommend the Dunker Punks Podcast.
Be a Dunker Punks Podcast Partner with these support and engagement resources.
Donate.
Support our young adult audio contributors with a one-time or recurring monetary donation. Sponsorship opportunities are also available to have your project or a project you love highlighted on the show.
Share.
If you've listened and like the show, tell your friends and family. The endorsement of loyal listeners is the most effective way to grow our community of dunker punks.
Volunteer.
Join the team! Tell us your interests, gifts or what would help you to support the show. All are welcomed to help further our mission.
---