Podcast: Play in new window | Download | Embed
Subscribe: Apple Podcasts | Android | Email | | More
As our souls are dependent on the life-giving spirit of God, so are our bodies dependent on natural processes for living. In this episode, Jonathan Stauffer explores the theology of environmental justice and interviews Bill Schuerer of On Earth Peace about his time with the Water Protectors at Standing Rock. Hear how participation in environmental justice is advocacy for the well-being of marginalized communities whose bodies are most likely to bear the brunt of ecological degradation. The episode also features an awesome new recording of an old hymn by Jacob!
Note
Further reading on environmental justice:
Bullard, Robert D. The Quest for Environmental Justice: Human Rights and the Politics of Pollution. San Francisco: Sierra Club Books, 2005.
Brunner, Daniel L., Jennifer L. Butler, and A. J. Swoboda. Introducing Evangelical Ecotheology: Foundations in Scripture, Theology, History, and Praxis, 2014.
Church of the Brethren stance on Indigenous Rights.

1994 Annual Conference Statement "Community A Tribe of Many Feathers"

Glave, Dianne D. Rooted in the Earth: Reclaiming the African American Environmental Heritage. Chicago, Ill.: Lawrence Hill Books, 2010.
Jenkins, Willis J. Ecologies of Grace: Environmental Ethics and Christian Theology. New York: Oxford University Press, 2008.
Martin-Schramm, James B., Daniel T. Spencer, and Laura A. Stivers. Earth Ethics: A Case Method Approach. Maryknoll, NY: Orbis Books, 2015.
Moore, Kathleen Dean. The Pine Island Paradox: Making Connections in a Disconnected World. Minneapolis: Milkweed Editions, 2004.
Learn more about the Standing Rock demonstrations and send donatations:
http://indigenousrising.org/
http://standwithstandingrock.net/
http://www.ocetisakowincamp.org/donate
Stay Connected
Snapchat | DunkerPunksPod
Facebook | Facebook.com/DunkerPunksPod
Twitter | Twitter.com/DunkerPunksPod 
iTunes | http://bit.ly/DPP_iTunes
Stitcher | http://bit.ly/DPP_Stitcher
Questions | DPP@ArlingtonCoB.org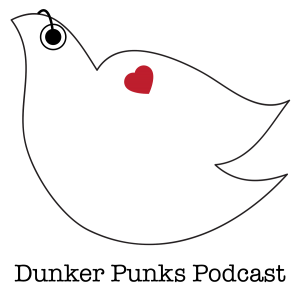 Joshua Brockway, Audio Content Contributor

Dana Cassell, Audio Content Contributor 

Jacob Crouse, Music Producer + Editor


Dylan Dell-Haro, Audio Content Contributor 

Emmett Eldred, Audio Content Contributor 

Nancy Fitzgerald, Producer + Host

Nohemi Flores, Audio Content Contributor

Nate Hosler + Emmy Goering, Office of Public Witness, Audio Content Contributors
Jenna Walmer + Marie Benner-Rhoades, On Earth Peace, Audio Content Contributors

Suzanne Lay, Producer + Editor

Kevin Schatz, Audio Content Contributor

Jonathan Stauffer, Audio Content Contributor

Elizabeth Ullery Swenson, Audio Content Contributor 

Sarah Ullom-Minnich

, Audio Content Contributor

Laura Weimer, Audio Content Contributor
Dunker Punks are united in following Christ's radical love by the power of the Spirit to the glory of God. The podcast team speaks up to record witness of Dunker Punks growing Heaven on Earth. We relay the freedom we've found in obedient service, study, and community to encourage listeners in their walk on the Jesus way to God's revolutionary reality. We see ear bud cords stretching like the mustard seed weed, as people regularly tune-in, actively engage, and enthusiastically recommend the Dunker Punks Podcast.