Podcast: Play in new window | Download | Embed
Subscribe: Apple Podcasts | Android | Email | | More
It's easy to forget the protections of citizenship, even as we readily rely on the right to profess our true allegiance to Christ. In this episode, Nate Hosler, Director of the Brethren Office of Public Witness, talks with Segma Asfaw at the World Council of Churches and Jeff Boshart with the Global Food Crisis Fund to introduce us to the vulnerable state of being without a nationality. Stateless people are legally invisible beyond the margins and without the basic human rights we take for granted. Beyond listening to their story, let us do all we can to make them known.
Stay Connected
Snapchat | DunkerPunksPod
Facebook | Facebook.com/DunkerPunksPod
Twitter | Twitter.com/DunkerPunksPod 
iTunes | http://bit.ly/DPP_iTunes
Stitcher | http://bit.ly/DPP_Stitcher
Questions | DPP@ArlingtonCoB.org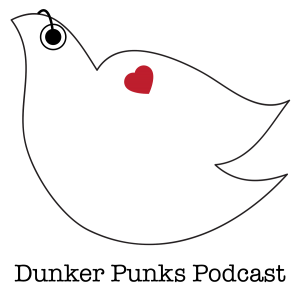 The Dunker Punks Podcast Team
Joshua Brockway, Audio Content Contributor

Dana Cassell, Audio Content Contributor

Jacob Crouse, Music Producer

Dylan Dell-Haro, Audio Content Contributor

Emmett Eldred, Audio Content Contributor

Nancy Fitzgerald, Producer + Host

Nohemi Flores, Audio Content Contributor

Nate Hosler, Audio Content Contributor
On Earth Peace, Sarah Ullom-Minnich + Marie Benner-Rhoades, Audio Content Contributors

Suzanne Lay, Producer + Editor

Kevin Schatz, Audio Content Contributor

Jonathan Stauffer, Audio Content Contributor

Elizabeth Swenson, Audio Content Contributor

Laura Weimer, Audio Content Contributor
Dunker Punks are united in following Christ's radical love by the power of the Spirit to the glory of God. The podcast team speaks up to record witness of Dunker Punks growing Heaven on Earth. We relay the freedom we've found in obedient service, study, and community to encourage listeners in their walk on the Jesus way to God's revolutionary reality. We see ear bud cords stretching like the mustard seed weed, as people regularly tune-in, actively engage, and enthusiastically recommend the Dunker Punks Podcast.