Dunker Punks Podcast
---
Donate. Share. Volunteer. Be part of this energizing ministry spreading God's love by amplifying young prophetic voices and building connections across and beyond traditional church. Be a DPP Partner.
Episodes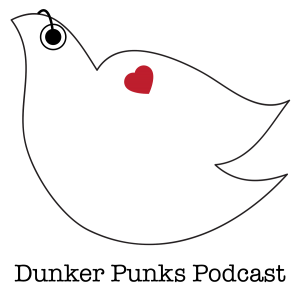 The Dunker Punks Podcast (DPP) uses new technology in the old fashion way of coming together to broadcast the unique perspective of young people raised on following Jesus.
DPP is created by a team from across the country who speak up and record witness of Dunker Punks growing Heaven on Earth. Dunker refers to the Brethren Christian tradition that, among other characteristics, practices adult baptism. The punk is another part of the tradition that refers to radical devotion, in our case, for following the way Jesus lived. DPP sees headphone and USB cords stretching like the mustard seed weed in Jesus' parable, connecting a ground-up revolution of people sharing God's love.
DPP amplifies young prophetic voices to reach across and beyond traditional church, because everyone deserves community in Christ. Through the podcast and on social media, we come together to come up with ways to encourage each other and live into love as Jesus did through everyday acts of service, advocacy and grace.
Stay Connected
Facebook | Facebook.com/DunkerPunksPod
Twitter | Twitter.com/DunkerPunksPod
Snapchat | DunkerPunksPod
iTunes | http://bit.ly/DPP_iTunes
Stitcher | http://bit.ly/DPP_Stitcher
Questions | DPP@ArlingtonCoB.org
Donate | ArlingtonCoB.org/DPPDonor
Project Team
Tori Batemen, Audio Content Contributor
Ben Bear, Audio Content Contributor
Joshua Brockway, Audio Content Contributor

Dana Cassell, Audio Content Contributor + Host

Christa Craighead, Audio Content Contributor
Jacob Crouse, Music, Host + Editor


Dylan Dell-Haro, Audio Content Contributor, Curriculum Writer + Host

Emmett Witkovsky-Eldred, Host + Audio Content Contributor 

Dean Feasenhiser, Transcriptions
Melody Fitzgerald, Fundraising + Curriculum Editor
Nancy Fitzgerald, Host


Nohemi Flores, Audio Content Contributor

James Foster, Fundraising + Tech
Emmy Goering, Audio Content Contributor + Producer
Ashley Haldeman, Audio Content Contributor
Nate Hosler + Susuyu Lassa, Office of Public Witness, Audio Content Contributors

Suzanne Lay, Producer + Fundraising

Nolan McBride, Audio Content Contributor
Marie Benner-Rhoades + Zech Houser, On Earth Peace, Audio Content Contributors
Matt Rittle, Audio Content Contributor
Kevin Schatz, Audio Content Contributor + Editor

Kiana Simonson, Audio Content Contributor + Host
Jonathan Stauffer, Audio Content Contributor

Elizabeth Ullery Swenson, Audio Content Contributor 

Sarah Ullom-Minnich

, Audio Content Contributor

Kerrick van Asselt, Graphic Design
Jenna Walmer, Audio Content Contributor
Warrensburg COB, Audio Content Contributors

Laura Weimer, Audio Content Contributor
Meet Our Partners
Arlington Church of the Brethren | ArlingtonCoB.org
Dunker Punks | DunkerPunks.com
Office of Peacebuilding + Policy | Brethren.org/peace/
On Earth Peace | OnEarthPeace.org/
---